Assalamualaikum...
Hey hey ape aktiviti hujung minggu awak semua?
haaaa..
tengok tajuk kat atas tu mesti you all tertanya2 kenapa i tulis pasal ni kan...
the answer is because it happen to me and i believe ramai lagi jugak yang kat luar sane same keadaannye ngan saya...
Org selalu tanye..
Macamane?
Bagaimana?
Kenapa?
I ada banyak jawapan utk soalan2 tu semua..
tapi macam biasa,
senyum sajelah~
Ofkos xde sape pon yg berkahwin tapi nak dengan sengaje berjauhan kan..
tipu sangat la kalau ade yg sengaja..
dah kawen tapi saje..nak duduk jauh2..xlogik langsung..
bagi i ni..memang sebolehnye cari peluang (dan keep on mencari peluang itu)
utk get together dekat2 with my hubby mcm pasangan lain..
doakan kami...InsyaAllah kan...
Apa tips bagi yg terpakse jejauh ni?
haaaa....jangan ingat senang dok berjauhan ni...
setann asyik je cucuk kiri cucuk kanan berusaha nak racun pikiran tu..
cuba tanamkan was2...
tanamkan kerisauan..keraguan...
Astaghfirullah...memang kalau xkuat..hei xtau nak ckp lah..
sooo
No.1: Doa banyak2 and berserah pada Allah yang Maha Mengetahui~
sebab kita kena kuat!kuat dari hasutan segala bagai tu...
pic: google~
seterusnya ialah
No. 2: Trust your other half!
tak dinafikan bila setan dah hasut sane sini..mesti ade yg terdetik kat hati kite ni kan..
tapi ape2 hal pon..bawak berbincang elok2 ngan your other half..
trust him...
jangan tuduh melulu..jgn gado gado...
ingat..our other half pon susah hati berjauhan ngan kite...cuma mungkin die xckp:)
No. 3: Hargai masa & peluang yg ada utk bersama tu..
Jangan nak salah faham pulak yg no. 3 ni..i mean iyolaaaa..
dah ekau jarang2 jumpo, janganla ekau nak cari gaduh ajo...
poie la dating berduo..
spend time samo2...
dating x semestinya poie perabih duit dek non...
boleh je g piknik sesame ke kannn...!:)
okey?
cukup 3 dulu la..
nnt bile rajin i karang lagi yer:)
okeyyy nahh pretty quotes to share with PJJ mcm i hukhuk~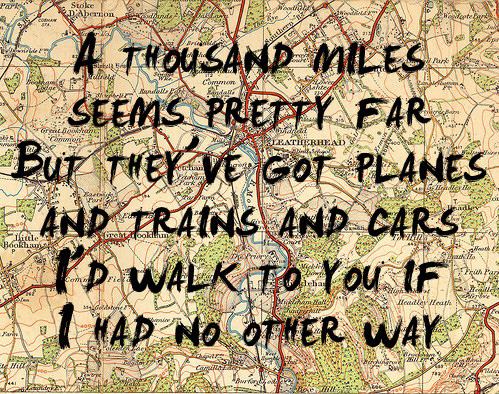 Till then,
Take care darlings!~